Thank you to all of the Authors that visited Indian Trail last week and to Elizabeth Sigale for all her hard work organizing such a great event!
If you are interested in helping create such a great opportunity for the IT students in the future, please let us know!  president@itpta.org.
Thank you Shannon Zimniewicz for putting together an awesome talent show and for all the AMAZING, talented students at Indian Trail that sang, danced, jumped, clapped, tumbled, played and performed YOU ALL DID GREAT!!!!! And to Mrs. Leff and the Student Council Officers, thank you for entertaining us all night!
ITPTA News:
April Dine & Share

 will be at Buffalo Wild Wings ALL DAY TODAY.  Please bring in this FLYER with you and 10% of your total bill will be donated to Indian Trail PTA (including adult drinks).
Mousetrap Machine Science Assembly

 was at Indian Trail today.  The assembly combined Science, Math and Art to teach students about how the five essential simple machines work: the Lever, the Wheel, the Pulley, the Inclined Plane and the Screw.  Be sure to ask you child what they learned!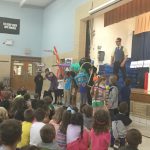 The 2017 Indian Trail 

Mother/Son Dance

 is Friday May 5th from 6:30-8:30pm.  This is the 4th year for this great event.  For registration & further details, please check out the webpage at www.itpta.org/mother-son-dance 
 

Teacher Appreciation

 week is May 8-12. Please consider making a donation so we can provide the teachers with a great week of treats, gifts and fun!  Donations can be made on line at http://www.itpta.org/donate/ or by sending in cash or check.  Please mark the envelope "PTA Teacher Appreciation".
**Community Day**

 -Friday, May 12 – 8:30 a.m. – 11:30  Student Council is still looking for volunteers for Community Day.  We need session leaders who are willing to work with small groups of students from grades 1 – 6.  Any type of activity would be great! Examples could be: your job, origami, crafts, technology integration, games, sports, etc.  Share your skills and hobbies with our students!  Contact Mrs. Leff – sleff@dg58.org  for further information!
NEW IT Welcome Group:   If you are interested in being a "Welcome Family" for a new Kindergarten Family please contact either Amy or Tanya at president@itpta.org
SCHOOL News:
Indian Trail Open House will be May 4th from 6:30-8 pm.  This is a great chance to see all the hard work your child has done so far this year and to also get a chance to visit and meet next year's teachers!