THIS IS THE FINAL SESSION OF ORDERING.  IF YOU ORDERED ON-LINE, PLEASE VERIFY YOU ORDERED FOR THESE DATES FOR YOUR CHILD!!!
Fun Lunch is not a fundraiser, but a service we provide for all our students.
ONLINE ORDERING will be available again and will remain open for cancellations, modification and on-line orders only up until 10 days prior to the scheduled lunch (cancellations will result in a credit to your account, not a refund).

Click on the Purple Stallion box below to place your on-line order.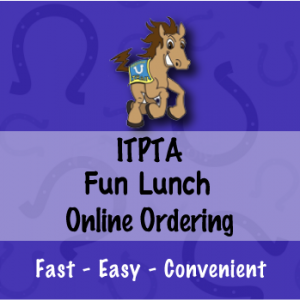 If you'd like to VOLUNTEER during a fun lunch, click here to sign up.  We need help getting food distributed to the kids, serving drinks, and general supervision.  Thanks in advance for your help!
All lunches will be on a Friday
Session 3
March 9 – Skuddlebutts
March 23 – Cozzi Corner
April 6 – Roundheads
April 20 – Mojo's
May 4 – Skuddlebutts
May 18 – Cozzi Corner
Fun Lunch Questions, email Amy Polivka at ajpolivka@sbcglobal.net or Jacynda Kruk at summer2004e@yahoo.com
 Paper Order Forms for March – May Click HERE
Please have ALL paper orders in by February 28
Ordering (The Basics)
NEW Students or NEW to ordering this year, Please follow below:
Once on the Fun Lunch site, go to the bottom and click on "CREATE AN ACCOUNT"

Type in your email and create a password

Click on "STUDENT TAB" at the top.

Click on "+ADD A STUDENT"

Using the drop down boxes, fill in school and grade/teacher of your child.

Fill in your child's first name and last.

Repeat the "add student" process for all your children at the school.

***

To order, go to "

ORDER

" tab at the top of page and click it.

You will see your child's name at the top in blue and a calendar, go to the first date for hot foods.

Click on what entrée your child would like and then click "ADD TO CART."

Repeat for other children for this date.  There is a drop down menu for each child, click on the blue box with your child's name and you will see your other children.  

To go to the next month, next to your student's name, there is a box that says "today" with arrows on either side.  This is how you scroll to the next month.
RETURNING STUDENTS AND FAMILIES… PLEASE READ BELOW:    
Once on the fun lunch site, sign in.  




If you forgot your password, please use the

Forgot My Password

Link

Select your child(ren), click on edit & modify your child's grade and teacher

***PLEASE MAKE SURE THE CURRENT GRADE & TEACHER ARE CORRECT***

Please click here for  more detailed ordering instructions.

Proceed to the

***

Order section in the directions above